Swiss Franc to Dollar Converter
Taux interbancaire
1 CHF = 1.0977 USD
Fluctuation (sur 24h)
{{ rateChangeText }}
Graphique (sur 24h)
CHF
Franc Suisse

CHF

Euro

EUR

Dollar

USD

Livre Sterling

GBP

Dollar Canadien

CAD

Dollar Australien

AUD

Couronne Danoise

DKK

Dollar de Hong Kong

HKD

Forints Hongrois

HUF

Yen Japonais

JPY

Couronne Norvégienne

NOK

Dollar Néo-Zélandais

NZD

Zloty Polonais

PLN

Couronne Suédoise

SEK

Dollar de Singapour

SGD

Rand Sud-Africain

ZAR
USD
Franc Suisse

CHF

Euro

EUR

Dollar

USD

Livre Sterling

GBP

Dollar Canadien

CAD

Dollar Australien

AUD

Couronne Danoise

DKK

Dollar de Hong Kong

HKD

Forints Hongrois

HUF

Yen Japonais

JPY

Couronne Norvégienne

NOK

Dollar Néo-Zélandais

NZD

Zloty Polonais

PLN

Couronne Suédoise

SEK

Dollar de Singapour

SGD

Rand Sud-Africain

ZAR
Start
Interbank exchange rate CHF/USD
(Last updated on 01/06/2023 08:00)
Conversions Franc Suisse Dollar
1 CHF 1.10 USD
5 CHF 5.49 USD
10 CHF 10.98 USD
25 CHF 27.44 USD
50 CHF 54.89 USD
100 CHF 109.77 USD
500 CHF 548.85 USD
1'000 CHF 1'097.70 USD
5'000 CHF 5'488.50 USD
10'000 CHF 10'977.00 USD
50'000 CHF 54'885.00 USD
Conversions Dollar Franc Suisse
1 USD 0.91 CHF
5 USD 4.55 CHF
10 USD 9.11 CHF
25 USD 22.77 CHF
50 USD 45.55 CHF
100 USD 91.10 CHF
500 USD 455.50 CHF
1'000 USD 911.00 CHF
5'000 USD 4'554.98 CHF
10'000 USD 9'109.96 CHF
50'000 USD 45'549.79 CHF
Find our other currency converters
Swiss franc to dollar (CHF/USD) converter
Despite the difference in size, Switzerland and the USA are two nations with a high international currency value. This means that many foreign exchange transactions take place between the two parties on an ongoing basis. What used to be done through traditional exchange offices is now done through the online foreign exchange network via conversion sites, which are easy to use and within everyone's reach. These conversion sites, like Telexoo, have the advantage of offering both transparency and confidentiality. The online converter has become the indispensable tool for anyone wishing to exchange Swiss francs into US dollars.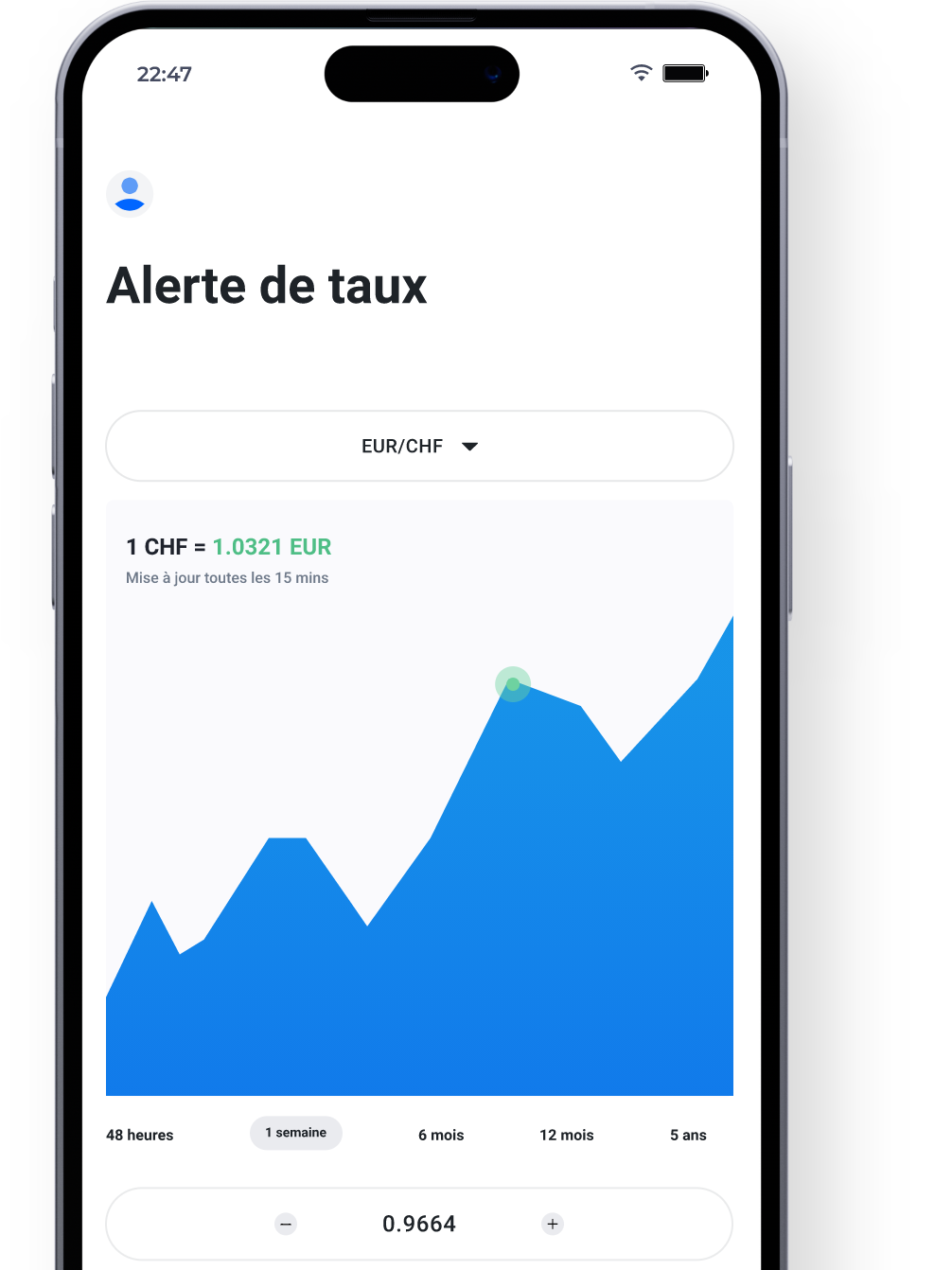 Evolution of the exchange rate of the Swiss franc and the dollar
Avec le convertisseur en ligne, la conversion est ultra rapide.
Connecté en temps réel aux fluctuations du marché monétaire, Telexoo est à même de proposer pour chaque transaction un prix en dessous du marché officiel.
Avec ce convertisseur de devises en ligne, vous êtes exonéré des frais interbancaires, ce qui vous permet de réaliser des économies sur chaque opération de change.
Switch from CHF to USD and from USD to CHF with savings
If your exchange rate reaches significant amounts, the savings will be calculated on a pro rata basis. The online currency converter is a reliable, fast and regulated system. Every transaction is secure and allows you to carry out your foreign exchange transactions with complete confidence from wherever you are. The savings compared to the traditional system are clearly displayed on the home page.
Site comparison
Telexoo is one of those conversion sites validated by the regulations in force in all countries. Each customer is identified and there is a real charter of trust between the two parties, where transparency and security are the key words. Here, each transaction is studied under a magnifying glass in order to propose the best rate to the customers.
Reasons to use Telexoo
Telexoo's reputation is based on its strength in the foreign exchange markets. This converter can indeed offer very interesting rates thanks to its close relationship with its customers, without intermediaries. Its operation, legal and transparent, makes it a conversion tool used by both professionals and private individuals. Available on the web as well as on a tablet, it is an everyday accompaniment for those who need to make transactions, at any time of the day or night.
Try Telexoo, create a free account in just 5 mins!
No commitment, use Telexoo whenever you want. With no account fees, Telexoo adapts to your needs.
Start