Profitez de meilleurs taux de change pour vos paiements en devises
Réalisez jusqu'à 80% d'économie sur vos transferts
Start
CHF
Franc Suisse

CHF

Euro

EUR

Dollar

USD

Livre Sterling

GBP

Dollar Canadien

CAD

Dollar Australien

AUD

Couronne Danoise

DKK

Dollar de Hong Kong

HKD

Forints Hongrois

HUF

Yen Japonais

JPY

Couronne Norvégienne

NOK

Dollar Néo-Zélandais

NZD

Zloty Polonais

PLN

Couronne Suédoise

SEK

Dollar de Singapour

SGD

Rand Sud-Africain

ZAR
EUR
Franc Suisse

CHF

Euro

EUR

Dollar

USD

Livre Sterling

GBP

Dollar Canadien

CAD

Dollar Australien

AUD

Couronne Danoise

DKK

Dollar de Hong Kong

HKD

Forints Hongrois

HUF

Yen Japonais

JPY

Couronne Norvégienne

NOK

Dollar Néo-Zélandais

NZD

Zloty Polonais

PLN

Couronne Suédoise

SEK

Dollar de Singapour

SGD

Rand Sud-Africain

ZAR
Start
Comment ça marche ?
Étape 1
Créer un compte gratuit en quelques minutes
Créez un compte Telexoo en renseignant vos comptes bancaire source et destination pour que Telexoo puisse traiter vos opérations de change.
Étape 2
Transférer le montant à changer
Faites un virement du montant que vous souhaitez changer, depuis votre compte source, vers le compte bancaire de Telexoo correspondant à la devise que vous envoyez.
Étape 3
Telexoo effectue le change à des taux préférentiels
Dès réception de votre virement, nous effectuons le change en appliquant le taux interbancaire et notre marge préférentielle. Un e-mail vous est envoyé lors de la réception de vos fonds, du change et du virement.
Étape 4
Recevoir mon change sous 24 à 48 heures
Nous transférons ensuite vos devises sur le compte bénéficiaire communiqué à Telexoo. Selon la monnaie et le pays souhaités, l'opération peut prendre entre le jour même et 48h approximativement.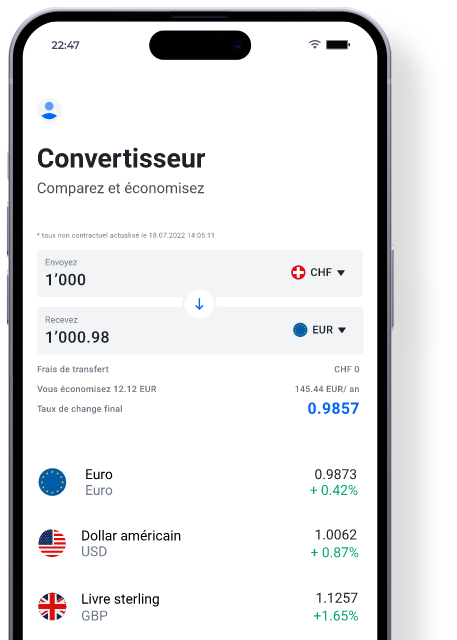 You get the best exchange
rate
Les banques entre elles s'échangent les devises aux taux interbancaires. On l'appelle aussi taux du marché, c'est le taux que l'on retrouve sur la plupart des sites financiers, par exemple sur le site de Yahoo Finance.
Mais lorsqu'un client particulier se rend sur l'e-banking de sa banque pour effectuer des paiements dans une autre monnaie que le franc suisse, la banque applique une marge, appelée également spread, sur le taux interbancaire. Plus cette marge est élevée, moins le taux est attractif.
Avec Telexoo, vous bénéficiez de taux de change très compétitifs, grâce à des marges de 50% à 80% plus avantageuses que celles des banques.
How Telexoo can offer you such competitive exchange rates
Nous opérons un très grand volume de change chaque mois.
Ce volume nous a permis de négocier auprès de nos contreparties bancaires des taux de change avec des marges proches des taux interbancaires et ainsi pouvoir faire bénéficier à nos clients des marges très réduites.
Telexoo is an online currency exchange service that provides you with endless possibilities 
We are able to make transfers to your account in the desired currency, but also to the account of another recipient. It is useful, for example, to pay directly a dealer while buying a car or to send one's own funds to a notary.
Complete list of SEPA countries
Austria, Belgium, Bulgaria, Croatia, Cyprus, Czech Republic, Denmark, Estonia, Finland, France, Germany, Greece, Hungary, Iceland, Ireland, Italy, Latvia, Liechtenstein, Lithuania, Luxembourg, Malta, Monaco, Netherlands, Norway, Poland, Portugal, Romania, United Kingdom, San Marino, Slovakia, Slovenia, Spain, Sweden and Switzerland.
Save up to 80% on your transfers
Pas de frais d'ouverture, ni de maintenance, notre marge est comprise dans notre taux.
Un service rapide, votre virement sur votre compte en 24 à 48 heures.
Notre priorité consiste à vous accompagner, de manière durable et efficace, dans vos besoins bancaires.
Pour cela, notre prérogative est de vous faire découvrir des innovations qui rendront vos opérations de paiement toujours plus rapides, plus sûres et surtout moins coûteuses.
High level of security
Telexoo is a financial intermediary supervised by the Regulatory Authority of Geneva (So-Fit).
Our membership number with the So-Fit is 914. You will also find us by clickling here.
We have a level of equity which goes well above the level required by Swiss financial supervisors. 
The money transferred by our clients is separated from the company's accounts, in dedicated accounts for foreign exchange transactions. All data is encrypted and hosted in Switzerland. We use the security standards of the banking system.
Receiving your AVS pension
or pension funds
You no longer live in Switzerland, you have retired and wish to receive your AVS pension or payments from your pension fund.
Telexoo is the solution. We receive for you the amount of the provident fund and we make the transfer to your account in the currency of your choice.
Telexoo is a fast service
for your transfers
Upon receipt of your transfer, we process the foreign exchange transaction at the Telexoo rate and transfer the same day the converted amount (up until noon).
We rely on the SWIFT transfer system and SEPA for transfers in the European area, which also includes Switzerland and Liechtenstein.
Try Telexoo, create a free account in just 5 mins!
No commitment, use Telexoo whenever you want. With no account fees, Telexoo adapts to your needs.
Start