Swiss Franc - Australian Dollar Converter
Taux interbancaire
1 CHF = 1.7440 AUD
Fluctuation (sur 24h)
Graphique (sur 24h)
CHF
AUD
You'll save
0.00 AUD / an
Start
Taux de change interbancaire franc suisse dollar australien
(Last updated on 07/12/2023 01:45)
Aujourd'hui
Ce mois-ci
Depuis le mois dernier
Conversions Franc Suisse Dollar Australien
1 CHF 1.74 AUD
5 CHF 8.72 AUD
10 CHF 17.44 AUD
25 CHF 43.60 AUD
50 CHF 87.20 AUD
100 CHF 174.40 AUD
500 CHF 872.00 AUD
1'000 CHF 1'744.00 AUD
5'000 CHF 8'720.00 AUD
10'000 CHF 17'440.00 AUD
50'000 CHF 87'200.00 AUD
Conversions Dollar Australien Franc Suisse
1 AUD 0.57 CHF
5 AUD 2.87 CHF
10 AUD 5.73 CHF
25 AUD 14.33 CHF
50 AUD 28.67 CHF
100 AUD 57.34 CHF
500 AUD 286.70 CHF
1'000 AUD 573.39 CHF
5'000 AUD 2'866.97 CHF
10'000 AUD 5'733.94 CHF
50'000 AUD 28'669.72 CHF
Find our other currency converters
Adopt Telexoo for your exchange from Swiss Francs (CHF) to Australian Dollars (AUD)
An online converter has become the indispensable tool for any currency conversion. With this fast and efficient means, framed by international legislation, it is now possible to exchange money at the best rate. Telexoo is a sophisticated measuring tool, useful for finance professionals as well as beginners, with a very simple operation.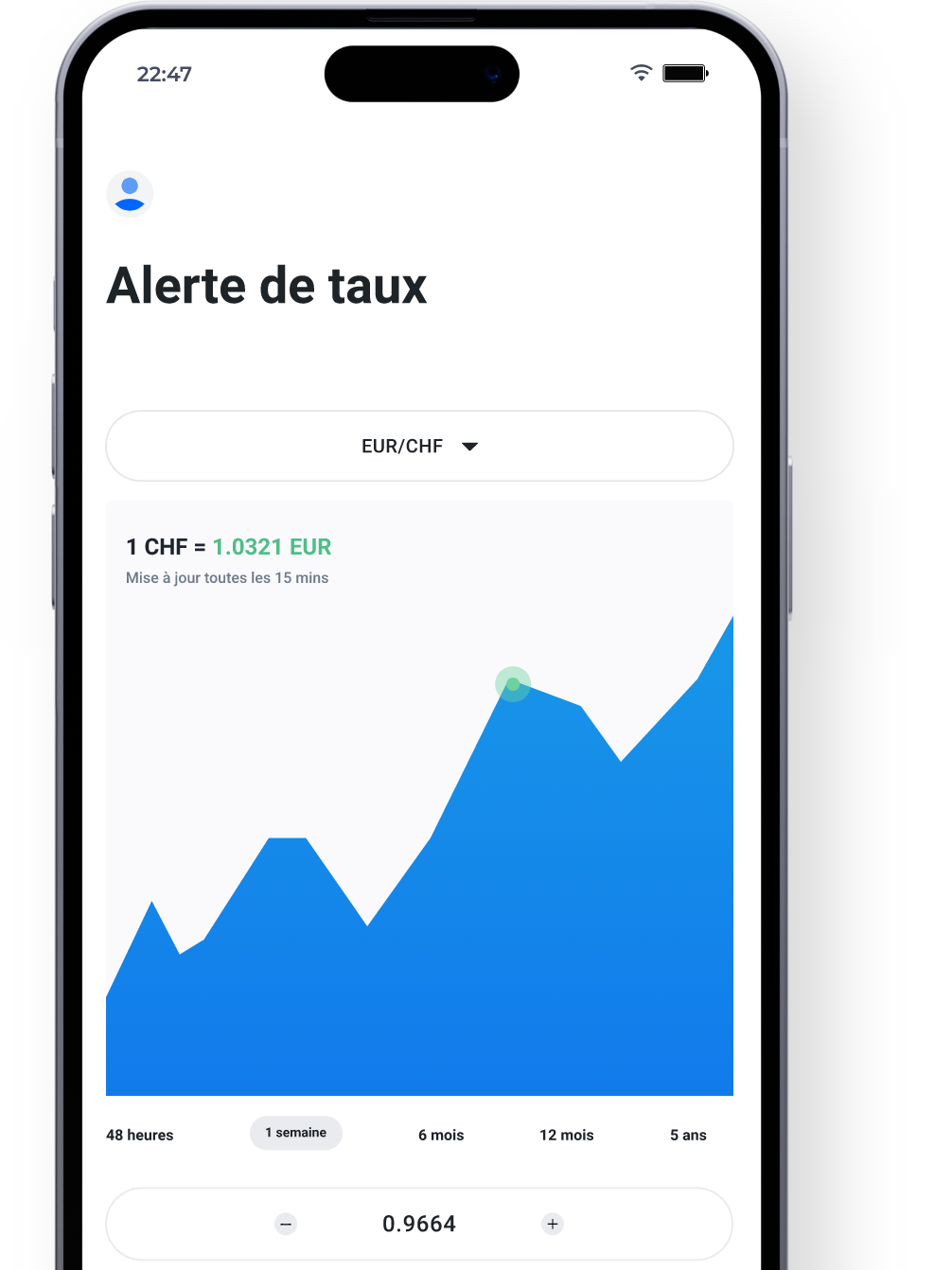 What is the fluctuation of the CHF-AUD exchange rate?
The exchange rate is an extremely mobile value, constantly subject to market fluctuations. Telexoo allows you to analyse the evolution of the differences in order to provide a synthesis. Connoisseurs will be able to decipher the rate tables from day to day. Linked in real time with the heart of the financial markets, Telexoo systematically displays the current exchange rate in order to inform the client. As the rate conversion between the Swiss Franc and the Australian Dollar has not undergone any major fluctuations in recent years, Telexoo is therefore able to offer you an exchange rate much lower than the traditional market.
How to convert CHF to AUD with Telexoo ?
The advantage of a sophisticated tool like Telexoo is that it is very easy to use, within everyone's reach. Its free of charge is also an important element. In fact, with Telexoo, all costs are reduced, starting with interbank commissions. To convert your CHF into AUD, all you have to do is to identify yourself on the site. After that, Telexoo will give you an account number on which you can deposit your money to be converted. Less than 24 hours later, Telexoo will transfer your currency directly to your account. This operation gives rise to an official document which will be archived in your customer area.
What Telexoo offers you as services
The Telexoo converter is designed to be fun and efficient. But its advantage is not limited to its ease of use. In spite of the virtual interface, it is a real customer relationship that is established. A telephone number is at your service to reach an advisor. Telexoo takes care of financial specialists as well as private individuals. The speed and the free services make Telexoo a particularly attractive tool. With it, you save time and can carry out your operations from anywhere in the world with an internet connection. Finally, Telexoo provides you with a system that is both secure and confidential, whose ultimate goal is to make you save money on your foreign exchange transactions.
Why use Telexoo
Telexoo will be one of your favourites, because once you've tested it, you won't be able to do without it. Also available on a tablet, its application, just as efficient as the site, will allow you to connect and change your values easily, just by turning on your smartphone. It's a bit like becoming a stockbroker yourself, with perfect control over your money.
Try Telexoo, create a free account in just 5 mins!
No commitment, use Telexoo whenever you want. With no account fees, Telexoo adapts to your needs.
Start