Swiss Franc to Canadian Dollar Converter
Taux interbancaire
1 CHF = 1.5540 CAD
Fluctuation (sur 24h)
Graphique (sur 24h)
CHF
CAD
You'll save
0.00 CAD / an
Start
Interbank exchange rate Swiss franc - Canadian dollar
(Last updated on 07/12/2023 01:45)
Aujourd'hui
Ce mois-ci
Depuis le mois dernier
Conversions Franc Suisse Dollar Canadien
1 CHF 1.55 CAD
5 CHF 7.77 CAD
10 CHF 15.54 CAD
25 CHF 38.85 CAD
50 CHF 77.70 CAD
100 CHF 155.40 CAD
500 CHF 777.00 CAD
1'000 CHF 1'554.00 CAD
5'000 CHF 7'770.00 CAD
10'000 CHF 15'540.00 CAD
50'000 CHF 77'700.00 CAD
Conversions Dollar Canadien Franc Suisse
1 CAD 0.64 CHF
5 CAD 3.22 CHF
10 CAD 6.44 CHF
25 CAD 16.09 CHF
50 CAD 32.18 CHF
100 CAD 64.35 CHF
500 CAD 321.75 CHF
1'000 CAD 643.50 CHF
5'000 CAD 3'217.50 CHF
10'000 CAD 6'435.01 CHF
50'000 CAD 32'175.03 CHF
Find our other currency converters
Facilitate your exchange rate conversions between Swiss francs (CHF) and Canadian dollars (CAD).
Today, to change money, you don't have to go to the exchange office. Telexoo is transforming your life by allowing you total autonomy. This online currency converter also allows you to save money, with a simple click, thanks to the regular updates of the site that analyse the market fluctuations in real time. To change your Swiss francs into Canadian dollars, have the Telexoo reflex, the tool that watches over your money around the world.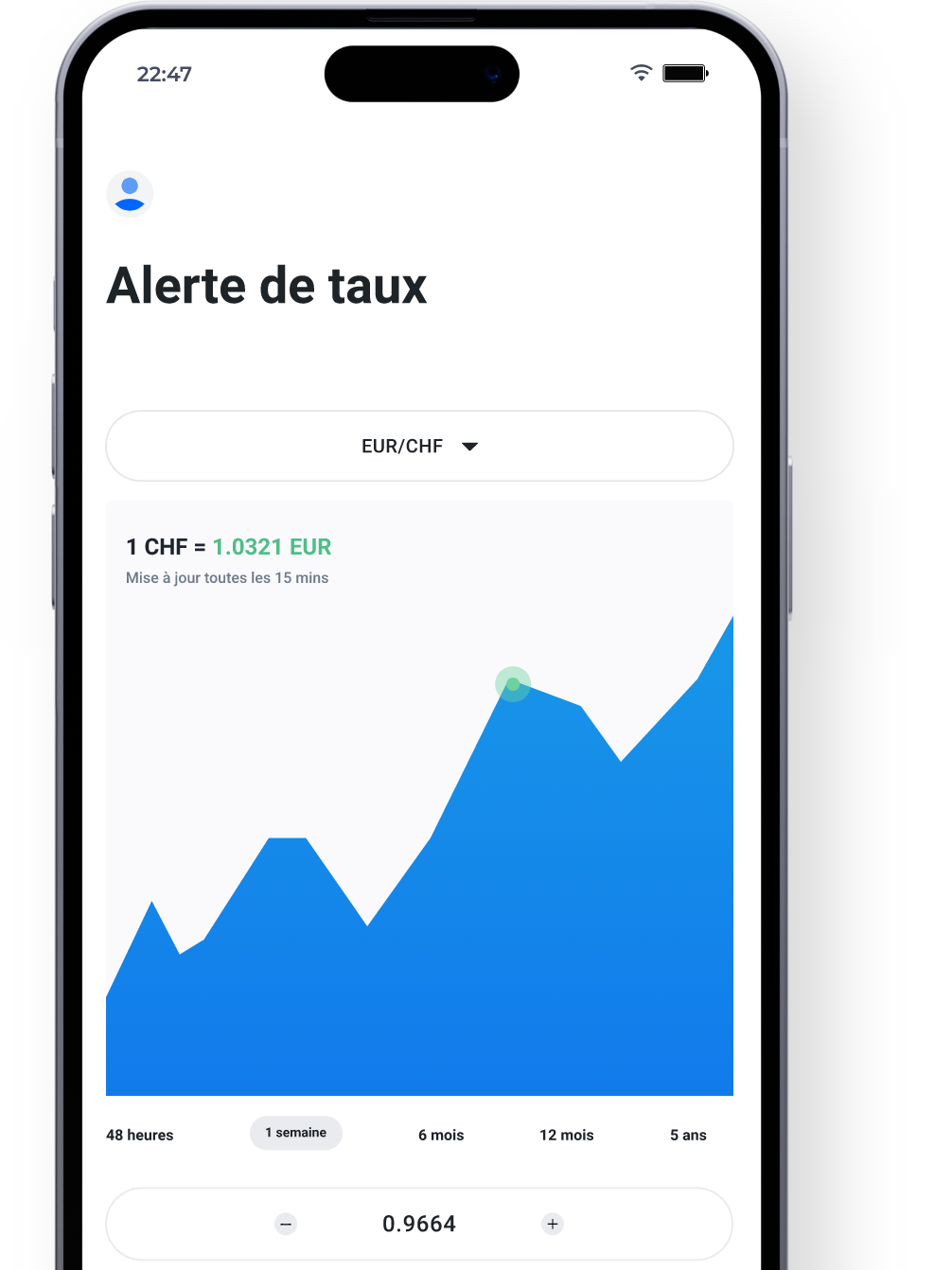 Fluctuations in the CHF-CAD exchange rate
Telexoo's analysis shows that the rates of value between the Swiss franc and the Canadian dollar vary very little. This is therefore an opportunity to benefit from a conversion with a very low commission. Unlike traditional exchange offices, Telexoo does not charge any fees for the transactions. This is the reason why it is able to offer particularly attractive exchange rates.
How to convert your CHF into CAD with Telexoo
First of all, let's specify that registration on the site is free. Your account will be operational in five minutes. Indeed, following your identification, a confidential account will allow you to send your money directly to Telexoo, which will send back the desired currencies to your personal account. Telexoo also allows you to benefit from very attractive exchange rates. These rates are much lower than those practiced by banks, allowing savings ranging from 30% to 80%. Telexoo takes care of everything, even sending the money to an account other than yours, internationally.
Use Telexoo rather than the traditional institutions.
The question no longer arises between the classical system and the efficiency of Telexoo. Indeed, the in-line converter assures you a perfect autonomy of action. You program the conversion, Telexoo executes it. Whether with a computer, a tablet or a telephone, Telexoo has never been so close to you.
A service as reliable as it is consistent.
It is over the long term that companies ensure their reputation. Beyond the very competitive operation of the site, full of information in real time, Telexoo also defines itself as a human-sized team that you can reach by phone. Telexoo, it is the accompaniment of the customers, from A to Z, the strength of its action in the field, so that your money finds its best equivalence on the financial markets.
Try Telexoo, create a free account in just 5 mins!
No commitment, use Telexoo whenever you want. With no account fees, Telexoo adapts to your needs.
Start